News Highlights
Wyre Forest CAMRA's Pub of the Summer 2021 award - Tap House Hartlebury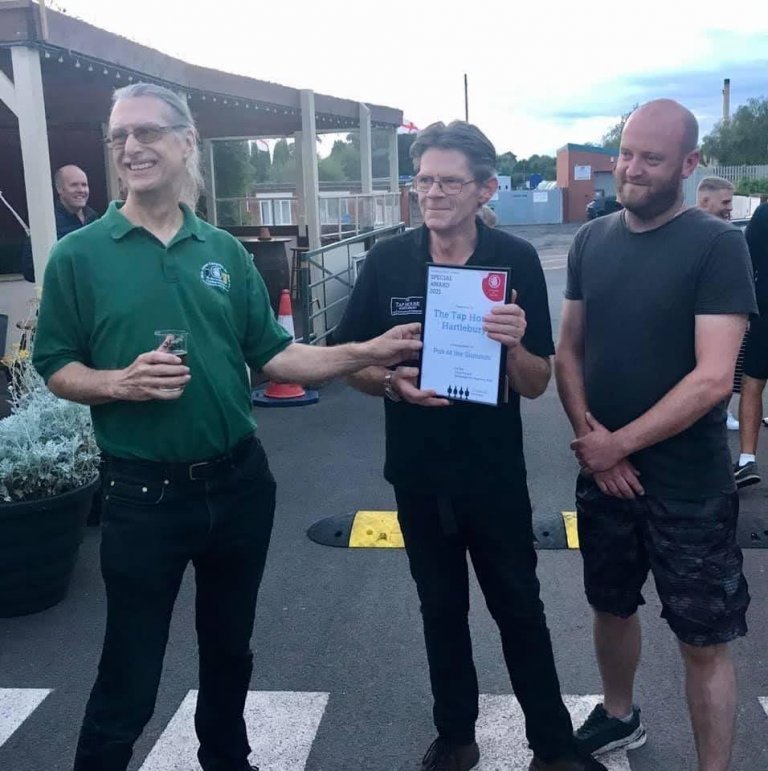 Presenting the award L to R - Rob Budworth sharing the joy with Duncan Edwards and Tristan Etheridge.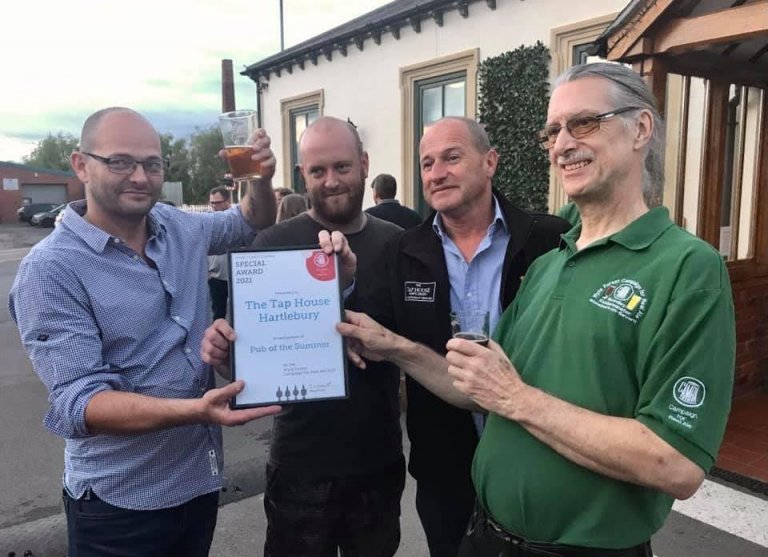 L to R - Tony Limmage, Tristan Etheridge, Dave Higgs,and Rob Budworth.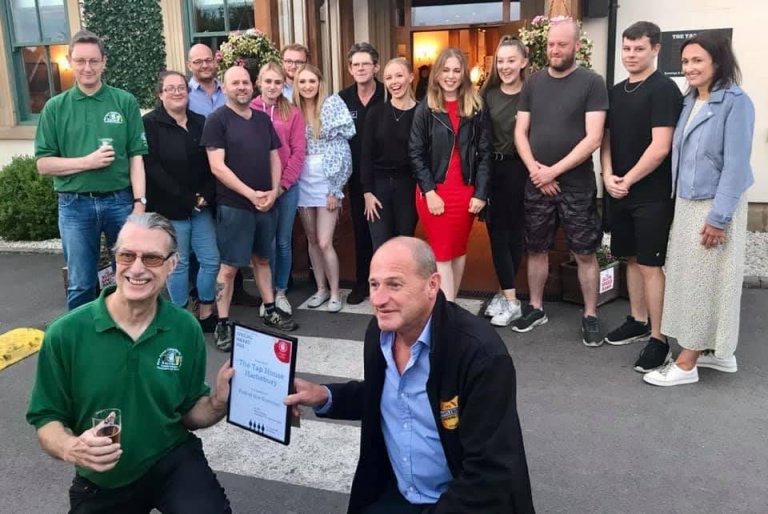 WF CAMRA Chair, Rob Budworth, presents the award certificate to Dave Higgs at the Tap House


Spring 2019 Liverpool Trip
In April 2019, over 30 Wyre Forest CAMRA members travelled to Liverpool to explore the pubs, beer and culture for a few days. Here are some selected photos, there are more in our album on Facebook. In 2020, we're going to Nottingham.
 

Leaving from Kidderminster Station

 

in the Roscoe Head

 

The Vernon Arms

 

Thomas Rigbys

 

Ye Cracke – a cracking pub!

 

at Albert Dock

 

in The Philharmonic Dining Rooms

 

Penny Lane
2018 West Midlands Regional Awards
At the 2018 Regional awards at the Barton Arms, Wyre Forest
Branch was awarded certificates in two categories.

Best Festival Programme - Joint Winner with Bromsgrove Branch.
Branch Website of the Year - Commended.

The photograph to the left shows our chairman Nick Yarwood
displaying the website commendation.

The photograph below shows Gary Timmins (Regional Director)
with the joint winners of the award for best festival programme.

.
Outstanding Success for Wyre Forest Pub –
Weavers Real Ale House in the Final Four of the National Pub of the Year Competition 2018!
On 5 November 2018, the final four pubs were announced. They are the Weavers Real Ale House, Comberton Hill, Kidderminster, Stanford Arms in Lowestoft, Wigan Central in Wigan and the Cricketers Arms in St Helens, Merseyside.

Having originally been awarded the Branch's "Pub of The Year" Award for 2017 the Pub had gone forward to success in the County, Regional and Super-Regional awards.

Unfortunately, The Weavers missed out on the top award.

If you have news for us please contact us at ku.gro.armac.tseroferyw@tcatnoc
Looking for old news? There is some available here> Branch News Archive
The views expressed on this site are not necessarily those of the Campaign for Real Ale Ltd. Whilst every effort is made to ensure that the information on this site is accurate and up to date, no responsibility for errors or omissions can be accepted.